is a web based enterprise resource planning solution with its unique features and its distinct capability to meet with unique needs. It facilitates company-wide integrated information system covering all functional areas and performs core corporate activities and increases customer service augmenting corporate image.

Fully integrated modules include Procurement and Warehouse management, Inventory Module, Finance and Fixed Asset Module, HR & Payroll Module.
Procurement Module
Purchase aims at making available the required materials of the right quality, in the right quantity, at the right time and at the right price, for the smooth functioning of the organization. All purchasing and subcontracting activities such as inviting quotations, supplier evaluation, placing purchase order, order scheduling and billing are covered in this module. Order tracking is made easy for the purchase department by the various reports and MIS that are available in Purchase.
Features & Highlights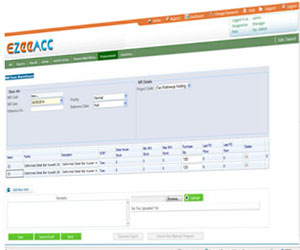 Highly parameterized – to reduce data entry
Streamlines purchase and process cycles
Detailed Supplier/Subcontractor/Service Provider database
Single service view of customer IT infrastructure
Capturing materials requirement
Automatic firing of purchase requisitions based on MRS
Quotations from various suppliers
Quotation validity
MIS for vendor evaluation based on quality, price & delivery time
Subcontracting – generation of process orders
Multiple indents for multiple items in a single PO
Purchase order processing for
Raw Materials Non-inventory items
Sub-contracted Bought out items
Purchase order entry with item details and other details like taxes, discounts, extra charges
like freight, P&F, octroi etc.
Flexibility to generate Purchase Order in domestic and foreign currency
Recording Payment terms in PO
Excise consideration in Purchase and Process Orders
PO authorization
PO amendments with complete amendment history
Order cancellation and order closing
Multiple delivery schedules
Quality inspection of goods
Advance adjustments
Purchase bill with updating of GL and purchase book
Service contracts, Service Bills, Service indents and PO
Value based approval of indents
Bill of Entry
Complete import functionality with handling of custom details - Purchase Bill for import, Excise consideration in imports
Reports for Order tracking for complete control on the procurement cycle
Warehouse / Inventory Management
Features & Highlights
Online status of item quantity in terms of on-hand, on-hand, available, reserved, ordered, to order, rejected, defective and reworkable quantities.
Complete excise functionality and generation of excise registers
Up to 30 Character alphanumeric stock code
Multiple levels of classification of items
Excisable items – Definition and Chapter allocation
Multiple units of measurement
Alternate items for Production Planning
Handling of non-stock low value items like stationery
Lot wise tracking of inventory at shop floor and main stores
Stock Valuation – LIFO/FIFO/weighted average
Material Requisition from different requirement areas
Purchasing and subcontracting
Receiving material against sales order processing, material requirement, subcontracting, gate pass and production requisition
Landed Rate of Items
Quality Control based on QC parameters
Handling Material Rejections
Rejected Material dispatch to subcontractors
Linking of GRN to PO and Invoice
Gate pass – returnable/non returnable
Cenvat claim for capital goods
Analysis which help in maintaining optimum stock levels
Physical verification of stock
Reallocation of reworkable stock
Multiple warehouses/branches/regional offices
Stock transfer – receipts from other warehouse
Consolidation of all warehouses
Consolidation at any level of company hierarchy
Finance & Fixed Asset Module
Features & Highlights
Caters to both national and international markets: user-defined formats for number, currency and date
Consolidated reports for any level of the company hierarchy
Drill down reports to reach up to the voucher level
Up to 7 levels of groups with up to 999 groups at each level
28 system defined groups
Entering pending voucher details at the time of accounts creation
Definition of subsidiary ledgers
User definable precision for amounts (no. of digits after decimal)
Flexibility of Indian/American number system
Printing of amount in words in any language
Multi-branch accounting
Allocation of income and expenses to cost centers
Department wise budget allocation for all accounts
Online and batch posting of vouchers by authorized users
Defining narration for vouchers for ease of data entry
Flexible voucher numbering – daily, weekly, monthly, yearly and carry forward
Transaction limit for vouchers
Up to 999 entries per voucher
Transactions in multiple currencies
Conversion rates on selling/buying price
Adjustments of exchange fluctuations
Fiscal year definition
Enterable sales/purchase voucher till sales/purchase modules are live
Recurrent JV entries
Replication of JV
JV reversal
Receipt/Payment voucher
Job Management Module
Job Management System is the major module of the BizSenz ERP. This are the following business activities
APPLICATION FEATURES
Easy Order Processing
Define reusable or custom Process
Use pre-defined Bill of Materials (aka Parts List)
One Click Build Job Order from Sales Order
Job Order Costing, and History
Picking integrated to Inventory
Order and Line Information (Notes) and External References
Employee Time and Cost feedback
Customized Reporting
Built-In Help, Screen, Field and Column
Security Controls
Concern Managers are notified via Email and Message Center for any updated report or approval.
Service Ticket System will handle data entry for Service Tickets and will generate all standard and any customized reports based on clients requirements. System can generate invoices based on the Service Tickets.
Sales Order & Billing
Features & Highlights
Handles pre-sales and sales activities of the organization
Complete stock-to-dock tracking of sales order processing cycle
Sales Force Automation – Prospect tracking through various stages, detailed competitor products information location-wise, scheduling marketing executives' visits, tracking expenses
Marketing surveys for estimating demand for various products to prepare an effective marketing strategy
Detailed Customers/ Business Partners/ Dealers database including bank details, TDS details, contact details and credit limit
Target setting for executives
Association of customers to Marketing Executives and Business Partners for tracking
Flexibility to define customer-specific prices for products and reference to customer part no.riented companies
Excise details (chapter no. associated with excisable products)
Enquiries from potential and existing customers
Quotations and amendments to quotations with complete history
Analyzing lost jobs
Different types of orders can be generated to suit varied needs of customers
Order entry for direct/scheduled/open/D3/sample orders with details for Dealers, incentive % and competition
Order calculation based on price offered, discounts (line and total), excise, taxes, freight etc.
Letter of credit details for association with sales orders
Order amendment history
Authorization of orders and invoices
Order scheduling over a period of time and tracking delivery schedule
Order tracking through status and transaction reports
Generation of production advice to plan for production based on sales orders
Order processing based on MRP
Preparation of dispatch advice
Multiple dispatches against single Sales Order
Invoice generation with advance adjustments – sales voucher automatically generated in Finance
HR & Payroll Module
Features & Highlights
Highly parameterized, suitable for any organization, reduction in data entry
Automation of recruitment procedure and maintenance of candidate databank
Track of employee history of appraisals, promotions, transfer and separation
Uploading of attendance from various attendance recording machines
Complete income tax functionality
Generation of statutory PF, ESI and Income Tax reports
Manpower planning and recruitment (pre- and post-interview action plan for scheduling, selection
and evaluation)
Consultant databank
Candidate databank
Generation of call letters and appointment letters
Training details – training program and analysis
Drill down organization chart with complete reporting structures
Maintaining record of employee details including job related details, qualification, work experience etc.
User definable salary components for earnings, deductions, allowances and reimbursements (no limitation on number of
salary components per employee)
Formula based grade wise/designation wise/location wise/employee wise salary structure
Defining statutory parameters for PF, ESI, Superannuation and Gratuity
Payroll calendar – based on working days/payment days
Professional tax according to locations
Leave entitlement details for each employee
Shift Roster to generate employees' working calendar
Facility of Full attendance transfer to mark 'present' for entire month and update leaves later to reduce data entry effort.
OT tracking and approval and processing
Uploading attendance from swipe machine
Recording advance compensating off department/employee wise
Arrears calculation
Loan structure, application and sanction of loan and updating in Finance based on installation plan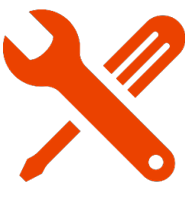 Financial Systems
Warehouse Management Systems
Inventory/ Procurement Management Systems
HR & Payroll Systems
Fleet & Equipment Management Systems
Web Design & Hosting
Health & Safety Management Systems
ERP & Integrated Systems
Real Estate Management Systems
Stocks Analysis Systems